Immigrants Increase Crime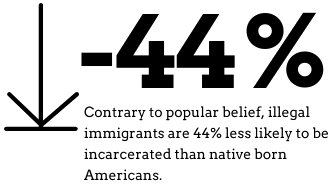 The incarceration rate was 1.53 percent for natives, 0.85 percent for illegal immigrants, and 0.47 percent for legal immigrants.[1]
Extensive research has proven that there is no causal connection between immigrants and crime in the US. Crime rates fall at similar rates regardless of whether undocumented immigrant populations increased or decreased. According to the American Immigration Council: "Between 1990 and 2013 the foreign-born share of the U.S. population grew from 7.9 percent to 13.1 percent and the number of unauthorized immigrants more than tripled. ... During the same period, FBI data indicate that the violent crime rate and property crime rate declined 48 percent ... [and] 41 percent [respectively].[2]