They're uneducated, unequipped for the workforce, and uninvolved in their communities.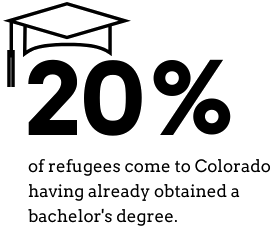 Immigrants in Colorado have a wide range of education levels. More than one in four adult immigrants had a college degree or more education in 2015, while fewer than one in three had less than a high school diploma.[1]
Immigrants make up only 10% of the Colorado population, but foreign-born workers make up 13.1% of the total labor force.[2]
The United States actually has more college-educated immigrants than any other country of comparable economy. The US has 14.7 million and the country with the next highest amount is Canada with 4.4 million.[3]